Satellite Services
Extend your reach in areas with limited to no network coverage and connect your remote sites to key locations with our Satellite Services.
Find out more
Software-Defined Network
Flexible network solution to support digital transformation in businesses.
Find out more
Private Lines Point-to-Point
Get dedicated, secure, low-latency and high-capacity connectivity and fast, flexible performance for your unique business needs.
Find out more
Virtual Private Networks
Discover a world of opportunity with agile, secure virtual private network services delivered on a highly resilient, scalable global network.
Find out more
Global Internet
Optimise your access to customers with a high-capacity, cloud-enabled efficient internet access globally.
Find out more
Telstra Programmable Network
Make your network a competitive advantage with the industry's first globally connected on-demand networking platform.
Find out more
Managed SD-WAN
Get the most out of your wide area network and improve application performance with software-defined solutions.
Find out more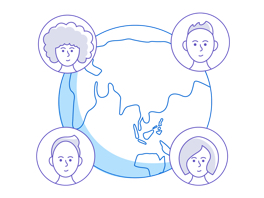 Ethernet Private Lines
Expand your network capacity to support business needs. Always On option offers bandwidth availability service level guarantee between Asia's busiest subsea cable routes.
Find out more
Get in touch
Contact us today to discover how we can help solve your business and technology challenges.
Contact us