A funny thing happened the other day. While I was touring a tech company, I noticed staff were using the most old-school telephone I'd ever seen: a Centrex one-to-one system with each phone hooked into a phone jack and connected back to the main telecom switch. Naturally, I asked why, and they freely admitted that although it was not the most up-to-date technology, they used it because they knew it worked when they needed it to.



I thought about this as I was reading the results of survey Telstra and Pulse recently conducted with 100 technology decision-makers at Canadian companies. Since Telstra recently expanded operations into Canada, we wanted to understand their priorities and concerns related to their network infrastructure and overall telecom strategies.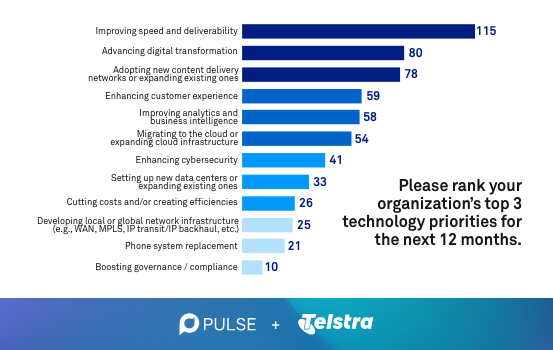 Here's why I was thinking about that tech company… If you do a quick Google search for "telecom trends in Canada," no doubt you'll find countless articles and blogs that talk about digital transformation, including 5G and the Internet of Things. So, it's no surprise that digital transformation was the high up on the list of technology priorities in the survey.
In fact, the survey noted that most Canadian companies are focused on not only advancing digital transformations, but also on improving speed and deliverability (a perennial priority), expanding content delivery networks, enhancing customer experience, improving analytics, and migrating to the cloud. 
While all these technologies are interesting and will, for sure, be part of future of telecommunications, what caught my eye was that developing local or global network infrastructure was down the list at No. 10 (although, at least it was ahead of No. 11: phone system replacement!).
I was surprised given that everything ranked in the top spots requires a robust and reliable network. Maybe it's because, like my friends at that tech company, they just knew their network infrastructure worked; and, therefore, don't think about it as much.
That's understandable, but I'm here to remind everyone that the foundational networks are just as important and can even be, dare I say it, cool. So much of the new technology we use everyday rests on telecom networks, including Telstra's, and, to me, it's simply mind-blowing to think about all the tech we enable.
Bridging this gap between the newest tech and the foundational networks for Canadian companies presents challenges, but also opportunities, for solutions providers like Telstra. How do we get organizations to see the number one priority they're focusing on requires that the most basic need – the network infrastructure – is met first?
In a way, I get what's driving this. Leadership dictates what's important for the business: We need to be faster, more agile, to move and change on demand. Then, the next levels down interpret this vision into outcomes: get closer to the customer, go to market faster. But what gets lost is the one thing that can make it all happen.
In the conversations I've been having with C-suite executives and directors at the types of companies that took our survey, I always begin with talking about why the fundamental infrastructure needs to be in place to ultimately reach desired outcomes. The focus should be on having a solid, robust and reliable network, and then, everything else flows from that.
Otherwise, no matter how solid your marketing plan is or how strong your customer support team is, if you don't have awesome network reliability, you're going to expose your organization to outages, latency, low customer adoption.
In fact, companies should resist immediately looking towards the outcome. Instead, go back to where it all begins with the fundamentals. I get it, everybody wants to talk about converged infrastructure, cloud integration, multi-cloud platforms and SaaS applications.
But ultimately, having a network conversation is just as important.
Additional findings from the survey:
Most decision-makers say their company's use of telecom platforms has remained the same over the past year, but more than a quarter (26%) experienced an increase in use as an impact of the work-from-home trend.

About 63% expect to increase spend on telecom services as a result of the return-to-work movement, with 11% anticipating a change of vendors.

Most decision-makers are currently facing telecom challenges with security concerns (63%) and high cost (55%). 50% are experiencing disruptive coverage outages.
Download the full report here.
Ready to talk with one of our telecom experts in Canada to see how we can help you with the fundamentals? Connect with us here.